---
Debt is rising fast.
The world's debt has reached the largest margin that it's been at over the past two years. But that's not even the shocking part. It ballooned to a record $164 trillion this past April.
World Bank CEO Kristalina Georgieva said:
After a decade of low interest rates, the corporate and public debt in many places has ballooned to a staggering $164 trillion. With interest rates going up, that attention on debt sustainability has to be stronger.
Global debt is becoming a huge problem. Central banks around the world are feeling the pressure to follow a Federal Reserve that continues raising interest rates faster than predicted.
This kind of pressure is causing immediate stress on emerging markets and developing economies.
According to the Institute for International Finance (IIF), world debt, which includes household debt, increased to $237 trillion in fourth-quarter 2017. That's $70 trillion higher than where debt was 10 years ago.
This isn't the pace that the world should be at, especially with debt. Georgieva mentioned how countries need to begin taking a hard look at the affordability of the projects that they take on amid fairly low interest rates. And this includes infrastructure.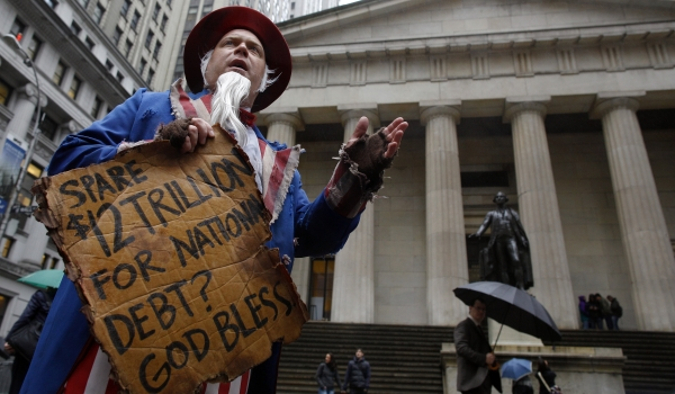 There was a standout comment from the World Bank CEO during an interview back in April. She said 55% of the world's population is living in cities and there needs to be more attention toward jobs and social protection for the urban poor. The population is rising faster than "the ability of cities to absorb these people" in terms of infrastructure and employment.
If people aren't employed, debt levels will increase. The majority of people are living beyond their means. And a huge reason for this is because of the lack of employment opportunities and pay that would enable these people to be in line with the standard cost of living...
Brought to you by the experts at Wealth Daily:
Sign up for the Wealth Daily newsletter below to stay on top of the greatest value investment ideas... You'll also get our free report, Seven Techincal Analysis Tools for Investors.
Are We Living Beyond Our Means?
The Federal Reserve has recorded that the average American household carries $137,063 in debt. But the U.S. Census Bureau reported that the median household income was only $59,039 last year.
These numbers support the idea that most American households are living beyond their means. Some are worse off than others. But they all still carry debt year after year because they're unable to pay off their debts entirely.
A survey by GOBankingRates concluded that 57% of Americans have less than $1,000 in their savings accounts. Americans aren't saving. And it's not because they don't want to. It's hard to save. To be honest, Americans aren't able to save.
This isn't something new. It seems like this problem continues getting worst. And that's why it isn't surprising that the world debt has increased by $70 trillion over the past decade.
Are governments helping out with the problem or are they making it worse? Take a look at the U.S. government…
Sonja Gibbs, IIF's senior director of the global capital markets department, commented on how the U.S.' debt growth was very worrisome. It's grown to more than 100% of the gross domestic product (GDP). And with the increases in spending from President Donald Trump and Congress, the U.S. will have funding needs of 25% of its GDP.
Gibbs said, "The U.S. really stands out here because… a lot of that is the expanding budget deficit as well as maturing debt."
Government and citizens continue spending. Recent data from the Federal Citizen Information Center (FCIC) records that overdue credit card debt has hit a seven-year high. And it's not only credit card debt that's affecting citizens. Mortgage debt is also up by 5.2% to $56.7 billion.
All these factors are adding to each other and are creating an astounding amount of world debt.
A solution is needed. We've recognized the problem, so it's time to take control of the problem.
Not to mention, it's time to start planning how to prevent going into debt or planning how to get out of it.
Until next time,
Monica Savaglia
Monica Savaglia is Wealth Daily's IPO specialist. With passion and knowledge, she wants to open up the world of IPOs and their long-term potential to everyday investors. She does this through her newsletter IPO Authority, a one-stop resource for everything IPO. She also contributes regularly to the Wealth Daily e-letter. To learn more about Monica, click here.